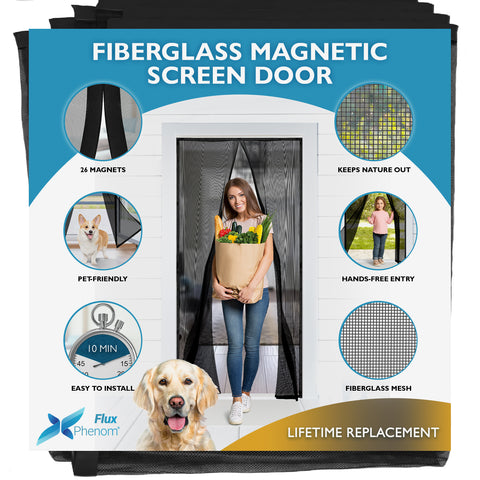 Fiberglass Reinforced Magnetic Screen Door, Fits Door Up To 38 x 82-Inch
HURRY! ONLY
0
LEFT IN STOCK.
At Flux Phenom, we're committed to making your life easier. Our fiberglass magnetic screen door installs and uninstalls in just minutes, providing a handless and self-sealing way to get in and out of your home with ease. The screen door's middle seam is strategically lined with 26 powerful magnets that allow it to close seamlessly behind you like magic. Give yourself, your family, and your treasured four-legged friends the convenience of easy entry and exit and a home filled with fresh air.
We promise unmatched reliability and exceptional craftsmanship. Don't be fooled by other cheap screens or the hassles of traditional screen doors. Our durable, heavy-duty fiberglass mesh screen with reinforced edges is built for longevity. Plus it's retractable and frameless, perfect for easy storage.
All hardware is included, as well as written installation instructions and a free online video tutorial. Fits all door sizes up to 38" x 82".
Package Dimensions:
Weight:
1.82 lbs
Length:
11"
Width:
15.25"
Height:
2"